Hi, I'm a composer, producer and musician in several genres, from tranquil to powerful.
New Age, Ambient, Trance, Progressive Rock, Metal, and more.
My music is available on SoundCloud, Spotify, Apple Music, Deezer, Amazon, and other online stores and streaming services.
It is also available for licensing.
This website is a central hub with my latest news, information, links to my content on the web, and special stuff which you can't find elsewhere.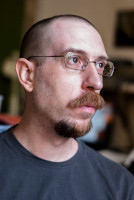 LATEST NEWS
04 October 2019 -- New website. The website is now responsive and should be easy to use also on smartphones.
12 May 2019 -- "New Directions" (single) has been released.